Regular price
Sale price
$6.00 USD
Unit price
per
Sale
Sold out
Jasmine Honeysuckle Shower Steamer
Jasmine Honeysuckle Shower Steamer the relaxing scent of jasmine and the sweet smell of honeysuckle is the perfect combination for a wonderful shower.
Once you try Jasmine Shower Steamer, you'll never be able to go back to plain old water shower. You'll get out of your shower feeling revitalized, refreshed, & ready for anything. Our Jasmine Honeysuckle scent is designed to relax your body and mind while you cleanse yourself of the day's worries.
3.5 oz
If you do not have time to take long baths? These shower steamers are a great alternative to bath bombs. Take a deep breath to open up and clarify your mind and body. They are loaded with essential oils that are soothing and relaxing.
Directions: Simply put one tab on the floor of your shower slightly in the shower stream. Then, when the water hits the tabs it will fizz and release the essential oils fragrance. Enjoy the warm aroma therapeutic steam as it surrounds you. These are great to use daily for yourself or even as gifts or favors.
Ingredients: Sodium Bicarbonate, Citric Acid, Essential Oils, Fragrance, Jasmine Flowers
Share

Gabrielle
13 September, 2023
This is truly beautiful. It was packaged well and shipped quickly. I ordered 2 and one will be a gift. I was disappointed that no literature was included with the package or a tag from the seller. Otherwise all great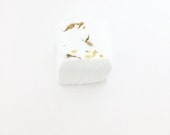 Jasmine Honeysuckle Shower Steamer, Shower Bombs

Devina
16 March, 2021
.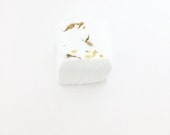 Jasmine Honeysuckle Shower Steamer

Tiffany
13 December, 2020
These smell amazing!!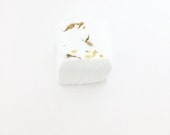 Jasmine Honeysuckle Shower Steamer | Free Shipp...
View full details